Procont – Energy Monitoring Controller – Max Demand Load Shedder
The Procont is a superb panel mounted instrument measuring 288mm x 144mm. The large back-lit LCD display provides easy to read information on all three phases for voltage, current, power, reactive kVAr and harmonics by means of a bar code display for voltage and current harmonic values.
Maximum Demand Load Shed Controller
The Procont will integrate the kW load with time so as to provide a forecast maximum demand value over the half hour being measured other MD periods can be selected. If the forecast maximum demand is in excess of the target (which has been programmed by the user) then commands for load shedding will commence. The Procont allows a maximum of 16 separate loads to be selected in order of priority so as to cut the load to meet the target required. Commands to cut the loads are given by digital signal from the Procont to a function module which can be located up to approximately 1 kilometre from the Procont device. The function modules will then provide switch on/off signals to operate contactors controlling the items of plant to be load shed. Up to four separate maximum demand targets can be selected and these can be varied according to the time of day. The instrument also has a clock so that time zones can be programmed to take advantage of low cost energy at off peak periods in the target programming. Boddingtons Electrical are able to programme the device to the user's requirements if necessary and to advise on all aspects of this unique piece of equipment. Data communication is available with RS485 and MODBUS RTU.
For further information please download this pdf.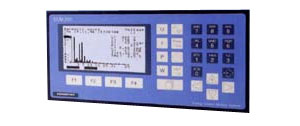 Procont is a panel mounted multi meter harmonic analyser up to 40th harmonic
Power factor control relay up to 16 steps incorporating controller
Depth including terminals 69mm
Key pad selects readings of U-I-kW-kVA-kVAr-kWh-kVArh-Harmonics
RS485 MODBUS RTU
KWh pulse output
Very competitive price
Technical support from Boddingtons Electrical
Available ex stock